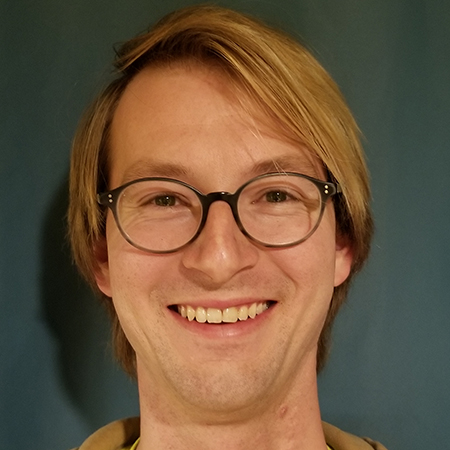 Jon Matiuk – Municipal Arborist for the city of Rochester Hills, MI
My name is Jon Matiuk, a municipal arborist for the city of Rochester Hills, MI.  I graduated with a Master of Forestry degree from Virginia Tech in 2016 which allowed me to choose from a variety of paths in arboriculture.  My job as a municipal arborist for a mid-sized suburban city lets me touch on every angle of urban forestry.  Some of my responsibilities include pruning and removing trees with an in-house crew, supervising contracted pruning and planting crews, inspecting trees for potential risks, monitoring a variety of invasive pests and diseases, and educating our residents about trees and the urban forest.  The variety of tasks that we get to do makes working for a local government surprisingly fun.  I love the feeling of being a steward for tens of thousands of trees in the area that I live and having the opportunity to teach people about all of the benefits trees provide and how arborists help maximize those values.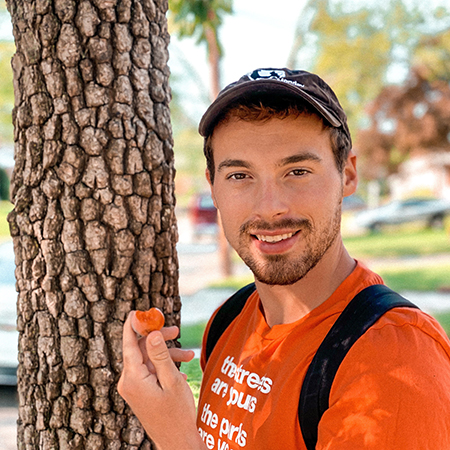 Jason Sprouls – Community Forestry Program Manager at Neighborhood Design Center
I work in the non-profit sector of urban forestry. I work at the Neighborhood Design Center, and our mission is to support the growth of healthy, equitable neighborhoods through community-engaged design and planning services. By providing the tools, expertise, and partnerships necessary to realize neighborhood visions, we support broad participation in the evolution of the built environment.
My role at the organization is the community forestry program manager. I bring expertise in community forestry and greening projects to local jurisdictions and community partners in the greater DC-metro area, with an emphasis on historically underserved communities of color with inequitable access to trees. A majority of my time is spent coordinating the Prince George's County, Maryland Department of Public Work & Transportation's Right Tree, Right Place roadside tree management program. I operationalize the program, and serve as a design and outreach consultant working directly with community members and organizations to provide designs and recommendations that are relevant to each unique neighborhood. Last year, I was able to partner with over 25 community organizations, and my street tree designs led to over 6,500 trees being planted.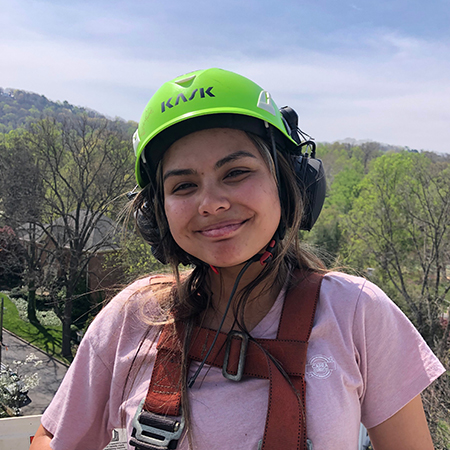 Samantha Matson – Tree inspector and Tree work planner for the City of Roanoke
Sam Matson is the current tree inspector and tree work planner for the City of Roanoke. Originally from Virginia Beach, Sam graduated from Virginia Tech in 2020 with a Bachelor's of Science in Forest Resource Management and minors in Urban Forestry, Watershed Management, and Wetland Science. Since graduation, Sam has become an ISA Certified Arborist and manages over 20,000 trees in Roanoke City's parks and right-of-ways. Risk management and health assessment of trees, work planning, and public outreach include a few of Sam's duties. She also leads several workshops throughout the year focusing on tree ID and how trees and greenspace can improve one's health and wellness. Sam spends her free time floating the river, hiking, and playing with her dog Finley.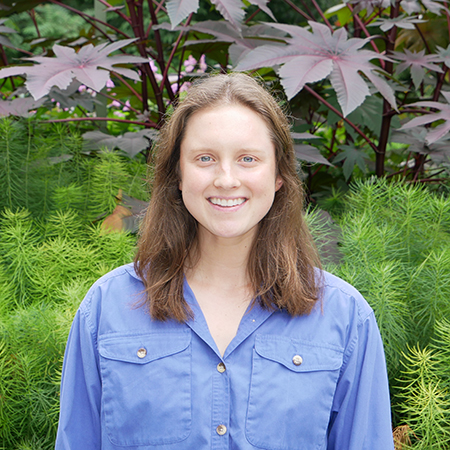 Heather Titanic – Community Forester for Delaware Center for Horticulture
While at Virginia Tech, Heather studied Environmental Resource Management with a minor in Urban Forestry. Her summers were punctuated with internships at various public gardens, and after graduation she went on to work as a Horticultural Fellow at a native plant garden. Heather is now an ISA Certified Arborist and working as the Community Forester at the Delaware Center for Horticulture, a non-profit organization in Wilmington, Delaware that does community greening. Her time is spent coordinating tree plantings and maintenance, and she works to sustain an equitable tree canopy cover throughout the city and county. Education and outreach are integral aspects of Urban Forestry, and Heather works to involve the community in tree plantings and educate on the importance of trees in the built environment.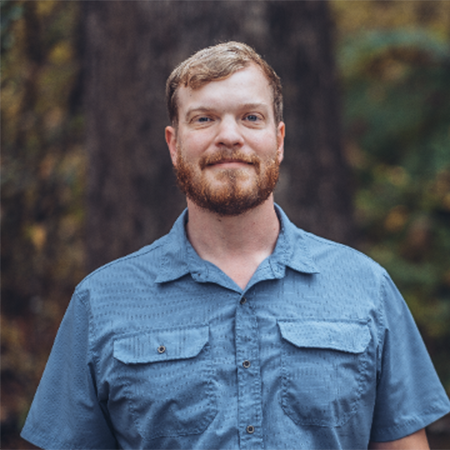 Jamie King – Urban Forest Manager and University Arborist at Virginia Tech
Jamie King has served as the Urban Forest Manager and University Arborist at Virginia Tech since late 2019 and he is developing the school's first comprehensive urban forest management program. Before beginning the new program at VT, Jamie served the City of Roanoke, VA for 7 years as a field arborist and then the City Arborist. Jamie has a BS in Natural Resource Conservation from Virginia Tech, is an ISA Board Certified Master Arborist, ISA Municipal Specialist, he holds the ISA Tree Risk Assessment Qualification, and serves on the board for the Mid-Atlantic Chapter of the International Society of Arboriculture.As the Urban Forest Manager and University Arborist he is responsible for all facets of university tree management on the university's Blacksburg campus and various other university owned properties within the commonwealth, including high-profile areas such as the Old Growth Forest.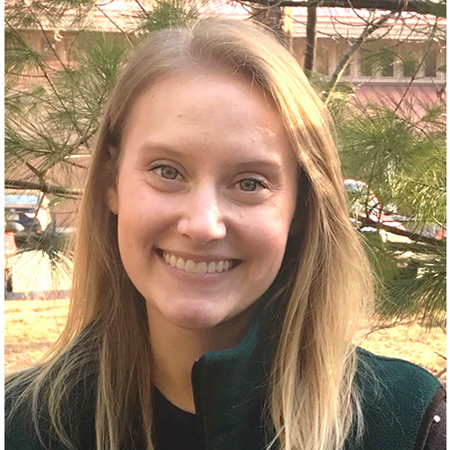 Molly O'Liddy – Urban and Community Forestry Partnership Coordinator with the Virginia
Department of Forestry.
Molly O'Liddy is the Urban and Community Forestry Partnership Coordinator with the Virginia
Department of Forestry. Molly assists communities throughout the state to help develop forest
management techniques to foster the growth and health of Virginia's urban forest canopy. She is an ISA certified arborist, wildland firefighter and graduated from Virginia Tech with a degree in Natural Resources Conservation and a minor in Urban Forestry. Prior to working for the Department, Molly worked as a Community Forester for the Wyoming State Forestry Division where she helped to enhance community forestry programs statewide. In addition to working in her position, Molly serves as programs chair on the Virginia Urban Forest Council, Trees Virginia, and manages the state's Tree City USA and Tree Campus USA programs.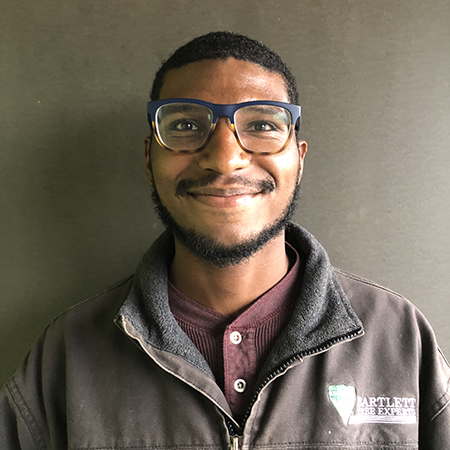 Montell Ford – Tree Climber for Bartlett Tree Experts
My name is Montell Forde, I graduated in 2019 with a degree in Urban Forestry from the College of Natural Resources. I have worked in a couple different cities in Virginia since graduating but am currently living in Austin, Texas where I climb trees for Bartlett Tree Experts. I lead a small crew of other climbers as we prune, install hardware or remove the various species of oaks, elms, junipers (and the occasional pine) native to the area. I'm very grateful for this opportunity as we get to care for the individual trees of this massive urban forest in such a complete way. The hands-on experiences I gained from the UF program were unforgettable and, honestly, a super instrumental part in my success post-graduation. Go Hokies!!!
Sina Hudson – Arborist Representative for Bartlett Tree Experts
Sina has been in the tree care industry since he started with Bartlett Tree Experts in 2016. With a strong interest in the trees and a love of the outdoors, Sina was attracted to Bartlett's scientific and holistic approach to arboriculture. Sina is an ISA Certified Arborist and Virginia Tech graduate. He holds a Bachelor of Science degree in Forest Resource Management. He works as an arborist for primarily residential properties throughout Falls Church where he helps clients care for their trees in terms of insect and disease management, pruning, lightning protection, and cabling operations. He also manages soil conditions to help maximize tree health. When he is not outdoors, you can find him on the basketball court or coaching high school volleyball.